Agenda
Masters of Innovation
Flevo Campus joins forces with Aim for the Moon for this inspiring, intimate gathering for innovators to share experiences, ideas and tips & tricks from their daily business.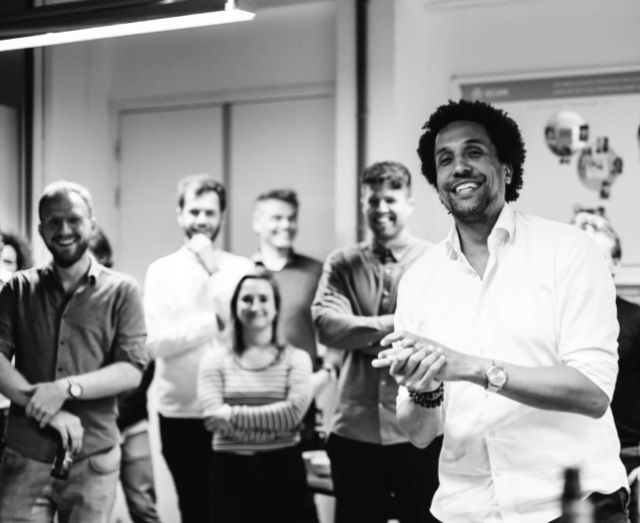 Wat
Flevo Campus
Aim for the Moon
Johan Leenders (Oranjehoen)
Wanneer
Tijd
Waar
The Natural Pavilion
Arboretum West
ALMERE
"A safe space where amazing people generously give."
This is how participants (from Nike, Telefónica, APG, ABN AMRO) describe our Masters of Innovation gatherings.
What is Masters of Innovation?
It is an exclusive gathering where innovation executives share challenges from their business practice, and give each other input and ideas.
Focus of this edition: the Low Food Labs
In this special edition in collaboration with Flevo Campus, we will share the best practices of Low Food Labs, a culinary approach of food innovation, including the do's and don'ts, tips and tricks, and how to involve open source in your innovation projects. We invite you to share insights, challenge one another, and make meaningful connections over drinks and snacks.
Who's it for?
Innovators and everyone working on innovations – both within their own company, or as a consultant working with big companies.
We aim to cultivate a safe space that encourages honesty, real challenges, and deep insights. That is why we ask you to apply for an invitation. We review every request manually.
Kom de opening van de Dutch Food Week vieren en laat je verrassen door alle lekkernijen op de 20 meter lange borrelplank met producten uit de buurt van lokale ondernemers.

Meer informatie

Restaurant BoutiQ
Grote Markt 3
Almere

Gratis

Op zaterdag 7 oktober doet Flevo Campus mee aan het Weekend van de Wetenschap. Kinderen kunnen in het Natural Pavilion meedoen aan een kookworkshop, leren over verschillende smaken, bonen planten en nog veel meer!

Meer informatie

Campusterrein
Arboretum West
Almere

gratis

Closing event of the fifth edition of our Food Pioneers Program. Come and meet the pioneers, see them pitch their product or business to an expert panel and sample their products!

The Natural Pavilion
Arboretum West
Almere


gratis
Arboretum West
1325 WB Almere