Food Pioneers Program
Are you a budding entrepreneur with a (nearly) complete product, looking for a community that helps you grow both personally and professionally? Then our Food Pioneers Program could be the right fit for you!

We can help you develop your business!
Our six-month program, which we organise together with Food Hub, Impact Hub Amsterdam and Kitchen Republic, aims to help you accomplish your business goals. In a series of training sessions and workshops our professionals will teach you about product prototyping, storytelling and business modelling. There will be tasting- and Q&A sessions with food sector professionals, feedback rounds, coaching, lunches & drinks and a closing event where you can pitch your business. 
What do we offer?

kick-off & introduction session
an inspirational tour of Flevoland visiting entrepreneurs
workshops on Transition theory, Prototyping, Business Model Canvas, Sales and Pitching
tasting sessions, feedback (by Kitchen Republic and Food Pioneers alumni) & coaching
access to online learning programme & tools
peer-to-peer work sessions
an accountability partner throughout the programme
1-on-1 sessions on local networks/production
closing event where you pitch your business
access to the Flevo Campus, Food Hub, Horizon Flevoland and Impact Hub network and events
a (free) workplace in the Natural Pavilion in Almere for the duration of the program, and the opportunity to become part of a unique food community!
The program represents a total value of almost €5,000!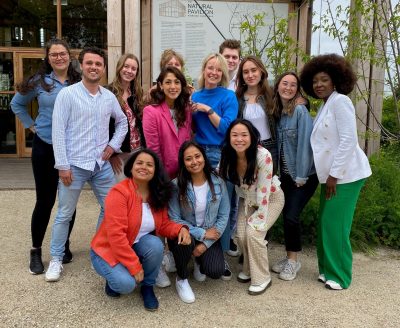 Taking part in the program will not cost you any money but: we do ask for a contribution in the shape of a creative 'quid pro quo'. You could for instance provide lunch for the group on a programme day, or share your network with your fellow participants. Anything goes – as long as it helps the other participants, the organisations involved or society as a whole.
… are an entrepreneur in Almere, Flevoland or the Amsterdam Metropolitan Region (AMR)
… are starting your business, or looking for ways to develop it
… have a product that is complete or nearing completion
… have had, or are expecting, your first turnover
… are eager to work with other food professionals in a close knit community
… are excited to work in an English-speaking environment
… are looking for a workplace in Almere.
Registration for #5 is now closed.
If you want more information about the program, please contact project manager Thera van Heuveln: thera@flevocampus.nl.
Meet the participants!
So far, over 50 exciting entrepreneurs have found their way to the program. Meet the participants of edition #5 below!
Artisan by Asha is a social enterprise service 'Food as Medicine' to support regenerative agriculture and bring circular economy into action. They hire and train youth who face employment opportunity gaps, build their confidence and improve their life skills. They partner with organic farmers who practice regenerative agriculture by mimicking natural systems of regeneration through safely returning food by-products to the soil in the form of organic fertilizer.

FIKAT is a Swedish word that means "the time to enjoy something sweet with someone". The company makes sweet treats that are a bit like cookie dough. The treats are plant-based, hand-made, palm oil free and come in no plastic packaging. They do everything themselves: from baking to packaging to dispatching as well as selling the treats from their webshop. And: they plant a tree for every box they sell!

Green Bakers sells vegan baking mixes, spice mixes and sauces B2B and also directly to customers through their webshop. Run by Wendy Luong, their mission is to stimulate intercultural connection and celebrate cultural diversity in Dutch society. They aim to show and convince second and third generation East-Asian immigrants in the Netherlands that instead of choosing one or the other, they can embrace the mix of the two cultures – it is after all unique. Their current business model consists of selling food (baking mixes, spice mixes, sauces) and non food (kitchen and dining equipment) directly to consumers through their webshop. Their food is also sold in a number of Dutch toko's.

Huberts' Food is a family business that has been around for over 100 years. They have devised a protein enriched ice cream with 10 gram of protein per 90 gram cup that is manufactured following a traditional family recipe. Their mission is to prevent malnutrition among elderly. As a team, they want to do good with food. How? By strengthening one's body and mind with responsible treats.

They mainly focus on creating social impact by preventing malnutrition & boosting recovery. Their business model is B2B in the (Dutch) health sector: they sell to wholesalers active in the health sector that deliver to health institutions like hospitals and rehabilitation centers (not nursing homes, on account of their limited food budgets).

La Chica Food create delicious, vegan empanadas: a versatile & affordable snack that can be eaten for lunch, dinner or on the go. Their mission is to bring nourishing food with authentic flavours to the table. Founded and run by a South American native, they hope that by bringing their traditional cuisine to Europe they can make a connection between the two cultures through delicious food. Besides making empanadas they can also cater a full menu for parties of up to 50 people.

Matély produces a cold brew clean energy soda with 100% natural ingrediënts and caffeine. Through connecting the customers with this drink they aim to improve people's physical, mental, and social health sustainably. As per business model, they are B2B and B2C.

MuMo (formerly know as InsectImpact) make a delicious brownie with cricket flour and other natural ingredients. Their aim is to have every Dutch person eat meat made from crickets and locusts at least once a week by 2030. If more consumers choose sustainable food products with a lower environmental footprint the contribution to sustainable change is accelerated. They also want to advise other companies on how to market their sustainable products to a young target audience and help them overcome their mental barriers for insect based foods.

PASSECTI produces pasta made from at least 50% meal worms. The pasta tastes like whole-wheat pasta, but contains many nutrients and sustainably produced proteins. PASSECTI want to introduce insects into the Western diet and give them the recognition they deserve. Selling the pasta to retail and restaurants, 5% of the profit goes to charities that keep and protect insects in nature.

Revisionist Kitchen aims to offer a tasty experience of partially forgotten or misunderstood dishes through a small (potentially travelling) restaurant and/or catering business. Through re-examining & challenging both the recipe & the consumer, Revisionist Kitchen wants to serve up our food's origins & past understandings of it in a new contemporary & local interpretation. They wish to build an archive of developing crops and how they were used throughout our industrial (Western) development, to learn from partly forgotten culinary opportunities.

The continent of Africa often gets overlooked when it comes to its food & its potential. Unfairly, because it offers many special crops with a long history. SYMFONIO supports women communities in the Sahel region who produce authentic African crops through organic agriculture whilst promoting vibrant African flavors and ingredients at the same time. The export of an abundance of these specialties provides the (women) cooperatives with livelihood for their families and the community. SYMFONIO encourages African farmers to produce organic crops, train them, create local processing industries, provide financial support & help to create an export market for their excess produce.

Tortillería Taiyari is the first authentic Mexican tortillería & molino in the Netherlands whose goal is to keep Mexican food traditions alive & reconnect with their roots while sharing the real taste of Mexico with the world. Founder Karla Plancarte Solorzano believes that honoring the earth, preserving tradition, & sourcing the best quality corn is essential. Tayiari aims to establish long-lasting relationships with local farmers & to grow corn in the most natural way (non-gmo & free of pesticides) while creating a system where farmers are paid fair prices for the corn that they produce ánd consumers get access to locally produced, high-nutrient food.