Food Pioneers Program
Are you a budding entrepreneur with a (nearly) complete product, looking for a community that helps you grow both personally and professionally? Then our Food Pioneers Program could be the right fit for you!

We can help you develop your business!
This six-month program is organised by Flevo Campus in association with Food Hub, Impact Hub Amsterdam and Kitchen Republic, whose professionals will help you accomplish your business goals. In a series of training sessions and workshops they will teach you about product prototyping, storytelling and business modelling. There will be tasting- and Q&A sessions with food sector professionals, feedback rounds, coaching, lunches & drinks and a closing event where you can pitch your business. 
What do we offer?

kick-off & introduction session
an inspirational tour of Flevoland visiting entrepreneurs
workshops on Transition theory, Prototyping, Business Model Canvas, Sales and Pitching
tasting sessions, feedback (by Kitchen Republic and Food Pioneers alumni) & coaching
access to online learning programme & tools
peer-to-peer work sessions
an accountability partner throughout the programme
1-on-1 sessions on local networks/production
closing event where you pitch your business
access to the Flevo Campus, Food Hub, Horizon Flevoland and Impact Hub network and events
a (free) workplace in the Natural Pavilion in Almere for the duration of the program, and the opportunity to become part of a unique food community!
The program represents a total value of almost €5,000!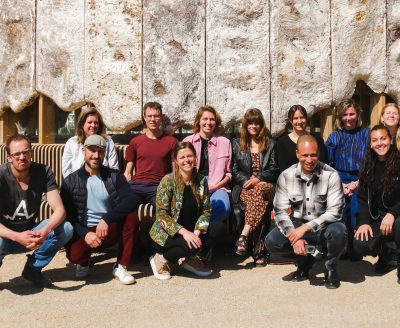 Taking part in the program will not cost you any money but: we do ask for a contribution in the shape of a creative 'quid pro quo'. You could for instance provide lunch for the group on a programme day, or share your network with your fellow participants. Anything goes – as long as it helps the other participants, the organisations involved or society as a whole.
… are an entrepreneur in Almere, Flevoland or the Amsterdam Metropolitan Region (AMR)
… are starting your business, or looking for ways to develop it
… have a product that is complete or nearing completion
… have had, or are expecting, your first turnover
… are eager to work with other food professionals in a close knit community
… are excited to work in an English-speaking environment
… are looking for a workplace in Almere
… are available on the following Thursdays: 1 June, 8 June, 22 June, 14 September, 19 October and 2 November 2023.
Meet the participants
A total of 45 exciting entrepreneurs found their way to the program for the #2021 and #2022 editions. Meet the current participants below!
Alon ferments a diverse and ever changing selection of local and organic vegetables in wooden barrels: Alon's Pickles. He wants to bridge local consumers and farmers through a delicious probiotic product that makes local eating easy and provides security for organic farmers.

David Damman & Lars van Kranenburg

Good friends David and Lars decided to turn their passion for flavour into the first Dutch maté company: Mojo Maté. This completely organic and guilt free caffeinated soda is locally crafted in the Netherlands, and made with green yerba maté from Brazil, real fruit juice with a little raw cane sugar.

Erika not only makes Miso from bread waste, she designed a kit that enables you to do it yourself! Tons of bread worldwide goes to waste: WAKEAT provides a healthy solution. With the help of traditional Japanese techniques that she learned from her grandmother, Erika gives us local and organically made Miso.

Eva from La Lia serves you delicious 100% all natural Crispy Chilli Oil. Sharing her old family recipe and bringing authentic flavors from the Old East back to the Western world. La Lia gives you that extra kick of spice and crunchy texture to all of your dishes. It's Eva's Asian pride, filled in a jar.

Girish, the founder of skinny g's, created a planet-first vegan nut butter and energy snack company. His mission is to minimize the impact on the planet by sourcing regenerative organic ingredients as local as possible, to shorten the supply chain, whilst still serving tasty and all-natural food.

Hanne founded BRAUT: using stale bread as a resource to make an Eastern European inspired drink called Kvass. With so much bread continuously going to waste, fermented bread together with a little bit of Dutch honey is a tasty solution. All resources are locally available in the Netherlands!

Jennifer wants to inspire people to eat more healthy by growing their own microgreens. She does this with her company KIEMM: the online shop for growing fun in the kitchen. KIEMM wants to take you on an adventure in your own kitchen to find pleasure in easy, tasty and healthy food.

Marloes Meerveld & Merle Slendebroek

Marloes and Merle make sauces and dressings which are 100% natural and low in calories. They use rescued vegetables that otherwise would go to waste – hence branded UNDONE. Their mission is to change the sauces and dressing market for good with their honest and nutritious products and provide people with easy access to a healthy lifestyle.

Nicole makes chili based condiments that spices up your plate, this turns your meal into a taste explosion instead of just a chore: Real Good Food. Nicole tries to use local ingredients as much as possible. These savory condiments are also vegan and gluten-free, to ensure you no more boring meals.

Rabia makes tasty and healthy sweets in the Netherlands with her brand StillSweet. This dietitian offers a healthier alternative to everyone's sweet tooth, made with whole grains and 100% plant based ingredients that are low in saturated fat. So far, she's selling these to the hospitality industry and school canteens, to help people get the right nutrition.

Raoul makes cold cuts and charcuterie from saved and grass fed Jersey Bulls at Boerderij Eyckenstein. These bulls are considered unsuitable for the regular meat industry, which means they get killed and thrown away. Raoul, together with the farmer he collaborates with, gives Jersey Bulls a different future. Meat that is organically grown, with care.

Tan Thai is on a mission to make Thai cuisine future proof by making revolutionary changes to traditional ingredients. Tanya wants to promote a healthier diet with innovative food products. Think of Soy-free tofu from locally grown chickpeas, Traditional Vegan Fish Sauce, and much more.

Vimala cooks South African fusion foods with an explosion of flavors with Sugar & Spice Creations. She shares the taste of South African cuisine in the Netherlands through her catering at events and food workshops.