Are you motivated to change the world of food? Discover more on how to build a sustainable food system! Join us at Food Wave Live!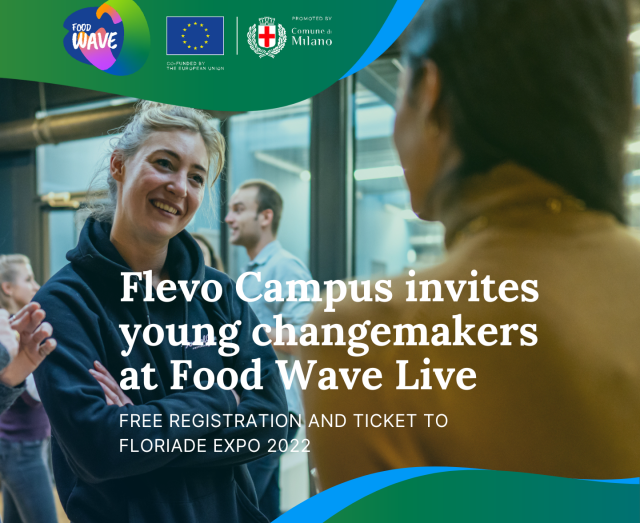 Wanneer
Tijd
Waar
Floriade Expo 2022
Oorweg 12
1324 ZZ Almere
Food Wave Live
This is an event for young people that want to create a sustainable food system. Whether you are a student, work in the food sector or want to learn more about building a sustainable food system: Flevo Campus invites young changemakers to come together @ Food Wave Live.
This event will be a great opportunity for you to learn more about what is happening all around the world in the field of food and get inspired by other food and climate activists. At Food Wave Live you will have the opportunity to learn from inspiring speakers, join panel discussions and workshops and share your knowledge, ideas and experience so that we can start a food transition together. Catch the wave, lead the change!
Food Wave
Food Wave is a European partnership that connects young people to take action for the climate. Food Wave has the aim to create awareness on sustainable ways to consume and produce food for climate change mitigation and to engage young people to involve their communities and to influence institutional decisions, so they can lead us to a sustainable global food system by 2030. The project is co-funded by the EU and promoted by the Municipality of Milan together with ActionAid Italia, ACRA, Mani Tese and 25 project partners in 17 countries.
About the program
12:00-12:30     Walk-in
12:30-13:30     Opening and welcome
13:15-13:35     Keynote by Yanna Hoek (Young Innovators Program/Climate KIC)
An inspiring keynote on Food Transition and offering tools and skills which can lead to systemic innovation
13:35-13:55     TBA
13:55-14:20     The Young Generation Represent
4 TedX-style talks by inspiring food changemakers with Iona Mulder (The Good Spice) and others
14:20-14:40     Food Talk with Lelani Lewis
How can you make an impact yourself? Ask your questions to true changemakers
14:50-15:30     Youth Food March
with Almere Brass Band
15:30-17:00     Networking and drinks
About the speakers
Yanna Hoek
In everything she does, she tries to get to the core. Through associative thinking and imaginative power, she connects various subjects and tries to give it a personal touch. Her mission is to search for opportunities in the complicated climate movement. Her strategy? Make the solutions visible and understandable, while connecting the needed individuals. With her work at the Young Innovators Program and as co-founder of Broodje Poep, she invites people to think about different ways of impact.
Iona Mulder
Iona Mulder started The Good Spice after her partner brought a piece of cinnamon from Hong Kong, which was tastier than every other cinnamon stick she has ever had before. That was the start for a fascination for (the trade of) spices. The Good Spice sources high quality and sustainable spices within a short supply chain, that will be sold under the farmer's own brand. The Good Spice tries to stimulate farmers to improve their production methodes by offering higher prices on the basis of sustainability and quality.
Marrit Schakel
Marrit Kuyng Ok Schakel is an organic farmer and cheese maker. She grew up in a small village in Friesland and has learned many things from traveling trough South Korea. Most of all, she loves to share her expertise and experiment in producing small scale artisan foods with new audiences.
Fancesca Miazzo
Italian-born, Amsterdam-based and an expert in sustainable urban development and innovation As the CEO of Foodlogica Francesca has an idea of how our future needs to look like as she does everything in her power to change it in that direction.
When and where
📅 Saturday, 1 October 2022
🕐 Program 12.00 – 17.00
📍 Floriade Expo, Almere
🎟 Registration is free but required and includes free access to Floriade Expo 2022. Registration is open until the 30th of september
Floriadeterrein
1325 WB Almere